The Flex ECO wireless control system provides a cost-effective solution to the restrictive use of hardwired pendants. These durable and rugged radios are ideal for use in lifting applications including chain hoists and small cranes. The ergonomic and lightweight transmitter is available in 4, 6, 8, and 12 button options.
Flex ECO is a cheaper option to the popular Flex EX2. It caters to those who only need simple, reliable radio control and who finds the price of Flex EX2 too high.
The system is working on one frequency in the 433 MHz band, the transmitters have fewer setting options, they do not have a drop sensor or a rotating, removal key. Others stays the same.
The transmitters have a rounded design and function symbols on the sides, they are made of durable fiberglass. The transmitter's two-speed buttons have gold-plated contacts and a lifespan of more than a million duty cycles. They are characterized by safe running, you can clearly recognize their position even in work gloves. Wide choice of symbol sets are included.
Two AA batteries are enough for 100 hours of normal operation.
Flex ECO offers the extensive configuration options. More than 200 programmable functions meet the needs of most devices.
A wide range of accessories is available, which provide additional protection, increase operator comfort and the utility value of the device.
Features
Secure and reliable two-way communication between transmitter and receiver
2 STOP relays, STOP functions of category PL-D
Low power consumption of the transmitter, 2 AA batteries are enough for 100 hours of operation
Two-speed pushbuttons are rated for more than 1 million operations provides a clear tactile response
Ergonomic, lightweight, compact and durable transmitter
Extensive setting options
IP66 transmitter and receiver protection
62 selectable channels in the 433 MHz band
Wide range of transmitter and receiver accessories
Receiver holder with vibration damping
Complete range of receiver supply voltages
Possibility of external antenna
ABS thermoplastic covers resistant to dirt, water, dust, oils, acids and other aggressive substances
The single-screw battery cover makes it easy to replace them.
Rubber housings or hinges increase the protection of the transmitter.
Content of delivery:
1 transmitter, 1 receiver with premounted 1.3 m output cable, receiver mounting bracket, spare fuses, pushbuttons label, 2 AA alkaline batteries, owners manual, diagram of settings.
Transmitter options
Up to 2 buttons as toggle contacts with the possibility of optical status indication via LED1, LED2
One lower button as up to 4 position switches 0-A-B-A + B with selectable switching mode and optical position indication via LED1, LED2
Inactivity power off timeout from 0 to 60 minutes
Transmitter power from 1 to 10 mW
Possibility to set the ALARM relay differently
Receiver options
various switching modes of the relay for motion control (interlock of opposite functions)
button as NO or 2NO contact (ON-OFF)
button as toggle contact (ON-OFF switch)
button pair as mechanical ON-OFF switch (for NC + NO relay pair)
MAGNET – for two buttons (switching on by pressing the MAGNET button, switching off only by simultaneous pressing of the OFF + MAGNET buttons
BRAKE
Built-in or external antenna
Flex ECO special functions
PITCH & CATCH
Mechanical selector switch A/B/A+B (Flex ECO 8 a 12)
TANDEM (Flex ECO 8 a 12)
Multireceiver systems
Special sets of one or more identical push-button transmitters and several receivers. The system allows one or more operators to control multiple receivers with one radio. In the left picture, 2 or 3 receivers are directly controlled by one transmitter. In the right picture is a double Tandem of 2 hoists with travels on 2 bridges, which is controlled by one radio with 12 buttons. The 6 buttons select the receiver (as Pitch & Catch) and the 6 buttons control the movements of the hoists, carriages and bridges.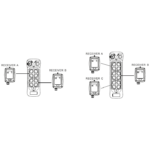 Flex ECO transmitters
Power voltage: 3 V DC
Batteries: 2× AA alkaline or rechargeable Ni-MH
Power: 2 mW
Lifetime: up to 100 hours
Working temp: -25°C/+75°C
Protection: IP66 (NEMA 4)
Optical idication: 3 LEDs, 1× system status + 2× for function

Transmitter Flex ECO 4: 141×69×38 mm, 203 g
Transmitter Flex ECO 6: 164×69×38 mm, 226 g
Transmitter Flex ECO 8: 187×69×38 mm, 250 g
Transmitter Flex ECO 12: 233×69×38 mm, 293 g
Flex ECO receivers
Flex ECO radio remote controls have 2 types of receivers: smaller for Flex 4, Flex 6, larger for Flex 8, Flex 12.
Sensitivity: -116 dBm
Antenna: internal (standard), optionally external (50 Ω, TNC connector)
Relays: 3 A / 250 VAC
Supply voltage (± 10%): 12-24 VDC, 24/42/48 VAC, 110/230/380/450 VAC
Consumption: 8 resp. 22 W
Optical indication: LEDs
Connection: mounted and connected 1.3 m output cable
Cable entry: cable clamp
Fuses and fuses: 2 fuses for receiver supply (value according to supply voltage), 5 A fuse for MAIN relay, common 5 A fuse for each 4 switching relays
Working temperature: -25°C/+75°C
Protection: IP66 (NEMA 4)
Mounting: metal bracket

Receiver Flex ECO 4, 6: 196×149×85 mm, 1,5 kg (with cable)
Receiver Flex ECO 8, 12: 260×204×83 mm, 2,5 kg (with cable)
Flex ECO MRX receiver
The Flex ECO 4 and Flex ECO 6 controls can be supplied with a miniature MRX receiver.
The receiver has an output cable of 1.3 m (as well as the standard receiver).
The supply voltage can be 12 ÷ 24 VDC, 24 ÷ 48 VAC or 48 ÷ 230 VAC.
The setting options are slightly limited, but will easily meet the requirements of all common lifting devices.
The STOP function category has PL-D, dimensions: 120 × 90 × 55 mm and weight 0.9 kg (with output cable).
MRX receivers on request only.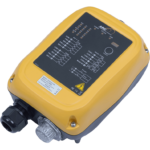 Flex ECO optional
Spare transmitter
transmitter rubber boot
Battery charger 230 VAC – requires a transmitter with the possibility of charging
Self-adhesive label for crane 250 × 250 mm (white-black)
Self-adhesive label for crane 300 × 300 mm (blue-yellow-red-green)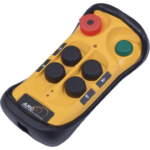 Download
Comparison of Flex ECO and Flex EX2
| | Flex ECO | Flex EX2 |
| --- | --- | --- |
| Worldwide approvals | * * * * * | * * * * * |
| Homologation | CE | CE |
| STOP function category | PL-D | PL-D |
| Frequenz band | 433 MHz | 868 MHz |
| Automatic choice of frequency | NO | YES |
| Manual choice of frequency | YES | YES |
| Radio transmission | one of 62 channels | FHSS at 2 channels in two bands |
| Interference immunity | * * * | * * * * * |
| Working range | 90 m | 90 m |
| Two-way communication | YES | YES |
| Receiver error feedback | YES | YES |
| Relay status feedback | NO | YES |
| Range of receiver power voltages | * * * * * | * * * * * |
| Options of receiver's settings | * * * * * | * * * * * |
| Transmitter power key | NO | YES |
| Transmitter release key | NO | YES |
| G-Sensor | NO | YES |
| Options of transmitter's settings | * * * * | * * * * * |
| Transmitter toggle with LED | 2 | 4 |
| Transmitter A/B switch with LED | 1 | 2 |
| Pitch & Catch | YES | YES |
| Tandem | YES | YES |
| Tandem anti-collision system | YES | YES |
| Multireceiver | * * * * * | * * * * * |
| Optional equipment | * * * * | * * * * * |
| Transmitter with charging option as standard | NO | YES |
| Wireless charging option | NO | YES |
| Chip card security option | NO | YES |
| Warranty | 2 years | 2 years |
| First setting free of charge | YES | YES |
Quick inquiry, demand, order