Handy and compact joystick station.
Juliet PK is a user-friendly, ergonomic product, whose size and shape are the result of careful analysis of the aspects linked to daily use in modern industrial environments.
Features
Designed for Juliet joysticks.
Designed to facilitate maintenance, reducing down time and costs.
Aluminium protection against accidental operation in case of impact.
The emergency stop mushroom pushbutton complies with standard EN 418 and is positioned in the middle for intuitive operation in case of danger.
Mechanical life of switches: 1 million operations.
IP protection degree: Juliet PK is classified IP65.
Extreme temperature resistance: -25°C to +70°C.
All materials and components used are wear resistant and guarantee protection of the unit against water and dust.
Options
Wide range of actuators: pushbuttons, selector switches and key-selector switches, pilot lights.
Switches with 1NC or 1NO contacts
The variable length strap, for waist or shoulder wear, features a quick fastening system.
Available with customized labels and enclosures with different size holes
Parameter
Storage ambient temperature: -40°C/+70°C
Operational ambient temperature: -25°C/+70°C
Protection degree: IP 65
Insulation category: Class II
Cable entry: rubber cable sleeve (Ø 14÷26 mm)
Operating positions: any position
Weight: ~1.5 kg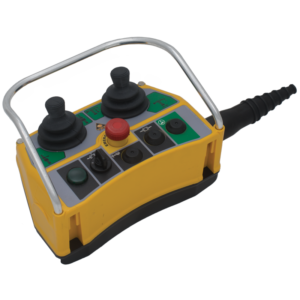 Download
More downloads at www.terworld.com.
Quick inquiry, demand, order