Pendant station for direct control of industrial machines.
Sturdy and handy, NPA-CP is specifically designed for heavy duty in industrial environments.
Features
The cable sleeve can be angled up to 20° to give the operator the best view of all the control elements and enable a natural, comfortable working position.
Rubber pushbuttons with symbol disks to ensure protection against dust and prevent jamming when the control station is used in harsh environments.
Two-colour moulded pushbutton disks to guarantee clear reading and wear resistance
The emergency stop mushroom pushbutton complies with standard EN 418.
Mechanical life of switches: 1 million operations.
IP protection degree: NPA-CP is classified IP65.
Extreme temperature resistance: -25°C to +70°C.
All materials and components used are wear resistant and guarantee protection of the unit against water and dust.
Options
Available in configuration from 2 to 8 actuators.
1 or 2 speed two-pole switches or 1 speed three-pole switches, with or without brake contact, for direct control.
Mechanical interlock to prevent simultaneous operation of opposite functions.
Parameter
Storage ambient temperature: -40°C/+70°C
Operational ambient temperature: -25°C/+70°C
Protection degree: IP 65
Insulation category: Class II
Cable entry: 2÷6 buttons: rubber cable sleeve (Ø 10÷18 mm) 8 buttons: rubber cable sleeve (Ø 17÷26 mm)
Operating positions: ny position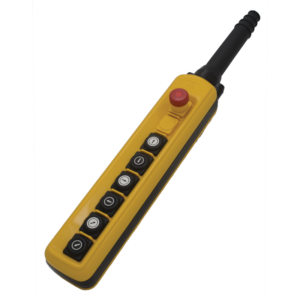 Download
More downloads at www.terworld.com.
Quick inquiry, demand, order