Footswitch for auxiliary control of machinery such as shearing, bending, wrapping machines, lathes, riveters and machine tools.
Features
Positive opening NC contacts for safety functions (not available for mini-footswitch configurations).
Mechanical life of switches: up to max. 30 million operations.
IP protection degree: footswitch Omicron is classified IP40 (mini-footswitch configuration) and IP65.
Extreme temperature resistance: from -25°C to +70°C.
Salt mist resistant.
Base, cover and pedal made of shock resistant ABS material or of self-extinguishing polycarbonate/ABS-V0, or cover made of die-cast aluminium and base and pedal made of self-extinguishing polycarbonate/ABS-V0.
Materials and components are shock and wear resistant.
Options
Available in different configurations featuring various operation modes, cover color (grey, yellow or red) and switches.
Available with mushroom pushbutton (on request).
Available in five different lever operation modes: with free movement, with lever locked in neutral position or latched in low position, with free movement featuring two-stage actuating force, and with lever locked in neutral position with two-stage actuating force.
Single or double footswitches and mini-footswitches available.
1 or 2 switches with 1NO+1NC slow or snap action contacts.
Parameter
Storage ambient temperature: -30°C/+80°C
Operational ambient temperature: -25°C/+70°C
Protection degree: Mini-footswitch IP 40 – Footswitch with cover I P65
Cable entry:

Mini-footswitch cable clamp Ø 6, 8.5 max.
Footswitch with cover cable clamp M20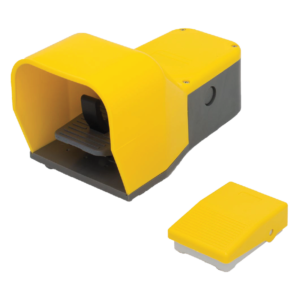 Download
More downloads at www.terworld.com.
Quick inquiry, demand, order